Lunch & Learn September 28
CCNS is pleased to host a Lunch & Learn webinar in partnership with FranklinCovey on Unconscious Bias: Understanding Bias to Unleash Potential.

DATE: Tuesday, September 28, 2021
TIME: 12-1 pm AST
Every day, your people are faced with countless bits of information while making decisions that range from the pragmatic to the strategic. And they do so while working with increasingly diverse teams and stakeholders. As they confront more and more information and have to act quickly while considering varying perspectives, your leaders and team members are primed to rely on biased thinking. Why? Because unconscious biases are how our brains compensate for overload. But bias can also inhibit performance and lead to poor decision-making. So how do we counteract the potentially harmful impacts of unconscious bias? How can we create a workplace in which everyone feels valued and able to offer their best?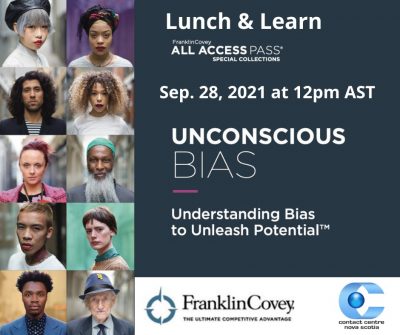 About the facilitator:
Troy Wallace
As a Client Partner, Troy works for FranklinCovey bringing World-Class solutions on Performance Improvement, Leadership Development and Execution of Strategic Initiative to Atlantic Canada.
Troy was a Client Facilitator of FranklinCovey content for 9 years. He has facilitated workshops on Leading at the Speed of Trust, The 7 Habits of Highly Effective People, The 4 Essential Roles of Leadership, Helping Clients Succeed (Sales Content) and was an Implementation Coach for The 4 Disciplines of Execution.

Click the button below to register.
We look forward to seeing you there!